I was told on another forum that the grip is too long and that the originals had wire wrap with metal ribs. Mine has a very old leather grip. The grip alone from metal ring to metal ring, without the pommel, is 3.75 inches long. As for the knucklebow, it seems to be uniform in shape with no hammer marks, heat marks or deformations. The pommel shape, peen, and
overall
grip length seem to me to be identical to the antique 1728 on top in the pic: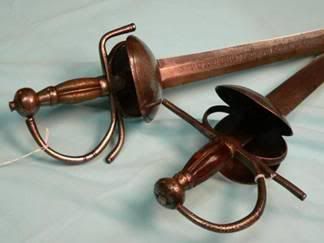 Note that I emphasized "overall" grip length, because the 1728 in the above pic has a neck on the pommel that makes up for the shorter grip. Mine seems to have the same exact pommel, but without the neck, hence the longer grip. Overall, from quillons to pommel, both sword grips look to me to be about the same in length. What do you think?
As a collector, I can tell you that the sword is as sturdy as any sword I have held. As a classical and historical fencer, I can tell you that the sword is definitely functional in weight and balance. Everything is tight and in place. The age of the foxing and patina on the guard and pommel are consitent with its supposed age, and it seems the peen matches it perfectly, for what that is worth.
Here are some better pics: