This is an interesting piece. It is German (Almain) and has a hand defence that slides thru a groove via a rivet. It is one of the better pieces in my collection given the rarity and provenance.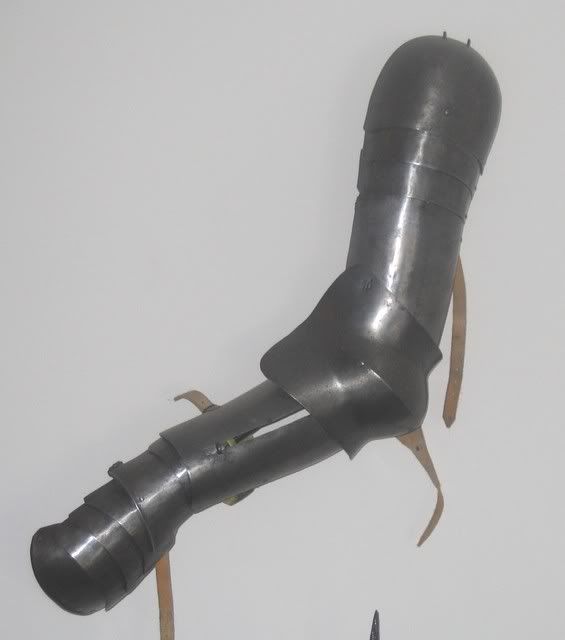 This piece was the property of Claude Blair, Antony Dove and Ian Eaves and was restored in the Tower Armouries in 1951. The diagram, below, shows the restorations. All of the leather is modern.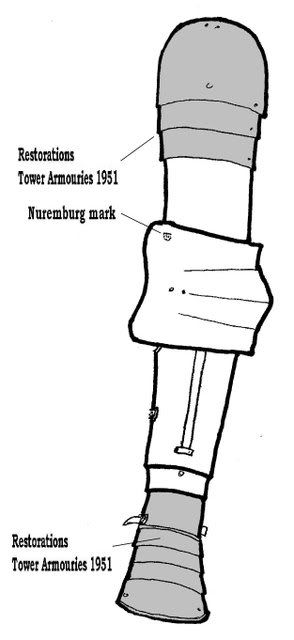 The elbow defense shows the Nuremberg town mark.
This piece is interesting from a number of standpoints. First, armors, even fragments such as this from ca. the magic date of 1500 are rare. While it is heavily restored, the original parts are in excellent condition and the restorations are by way of additions of elements as opposed to a physical reconstruction.
Second, it raises the question of fakes and provenance. Perhaps at some point we can have a thread discusssing fakes, in the meantime read Lee's excellent treatent of fakes
here
. Suffice it to say that ancient armors are faked and have been for a long time. Having a piece that once resided in the collections of noted authorities is nice reassurance.