| | |
| --- | --- |
| Tim Simmons | 27th December 2006 10:47 AM |
---
Bornu Fulani,Hausa, arm knife?

5 Attachment(s)
While in a different part of the country on Christmas eve I came across this knife. Even though the leather arm loop is missing the bronze handle is so nice I had to have it. Just acceptable in my opinion. The off centre fuller reminds me of Hausa arm knives. The fuller is in the same place on the other side of the blade, often the obverse fuller is mirrored rather than directly opposite. Interesting that it has the boss on the grip.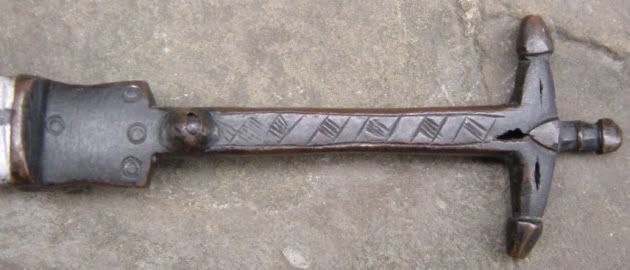 | | |
| --- | --- |
| Flavio | 27th December 2006 10:50 AM |
---
Nice find Tim :) Happy holidays!
All times are GMT. The time now is

05:43 PM

.
Powered by: vBulletin Version 3.0.3
Copyright ©2000 - 2018, Jelsoft Enterprises Ltd.