John, I knew a little about acehnese weapon & culture.
Pucuk Rebung Motif
Pucuk = the sprout
Rebung = bamboo shoots.
In indo malay rebung were used as food, my mother often cooked bamboo shoots curry :) This motif also can be found in their tradisional clothes, sarong and Woven cloth. Pucuk Rebung also can be found in other ethnic / region such as malay, lampung, riau, palembang and other part of sumatra. West sumatran / Minangkabau named this motif as Pucuak Rabuang . The Pucuk Rebong symbolised the fertility and the happiness in the life of humankind and the symbol of the life.
Pic of Rebung
Pucuk Rebung ( the tip of cloth ) on Tapis ( Lampung Woven cloth ),
Pic of Pucuk Rebung on Songket Palembang ( Palembang Woven cloth )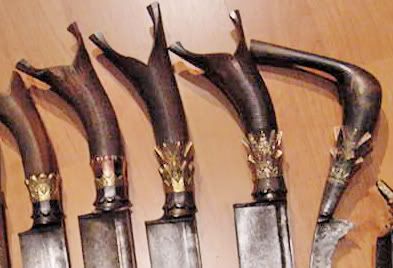 Cropped & Sharpen image of original dajak pics
These image clearly show the triangular-shaped pattern similiar to Pic of Rebung.
Aceh Translation related to weaponry
Daun = Leaf
Tebu = Sugar Cane
Daun Tebu = Sugar Cane Leaf
Meu is verb
Apet = jaga / kawal = Guarded
Meu Apet = penjaga / pengawal = "The guard"
Hulu = gagang = Hilt
Peusangan = name of river / name of subdistricts in Bireuen, Aceh
Beunteung = The fence that was made from bamboo
Meutampo Meueh = Bersepuh Emas = "Gold Polish / Gold Plating"
According to some acehnesse, the gold on hilt / handle / scabbard only can be made / owned for Panglima ( commander , chieftains ), teungku ( the noble ) and hig respected persons.
Hope this helps :)