| | |
| --- | --- |
| Dajak | 11th June 2006 11:31 AM |
---
BATAK OR BORNEO ???

7 Attachment(s)
Who can tell me the difference
| | |
| --- | --- |
| Lew | 11th June 2006 01:54 PM |
---
1 Attachment(s)
Quote:
Originally Posted by Dajak
Who can tell me the difference
Dajak
I far as I know piso-padangs if I am spelling it correctly are Batak. Here is a picture of mine for comparison.
Lew
| | |
| --- | --- |
| VVV | 11th June 2006 03:27 PM |
---
That's probably impossible to see (unless you know were they were collected of course?). Maybe if we could see the scabbards there would be some signs of origin?
As you know those, originally Indian, swords were very popular trading blades in both regions. It's documented that they also were manufactured in the arms factories of Brunei at the end of 19th C for domestic use in Borneo. The Iban Pedang usually doesn't have that kind of very floral decoration on the hilt as one of your examples.
Maybe that sword is an Indian trade blade?
Some people say that the "open cup" is typical Batak but I guess we all also have seen Batak Piso Podang with closed cup like yours?
Dajak, what have you found out yourself?

Michael
| | |
| --- | --- |
| Dajak | 11th June 2006 04:35 PM |
---
Hi lets say I did only see a batak piso podang with the plain hilt


And did see a brass hilt from an parang nabur with the same as in the pic
| | |
| --- | --- |
| Nagawarrior | 11th June 2006 04:36 PM |
---
As far as I know these swords are Batak. Both Tirri and Stone reference them. Here is a picture of mine, with open cup style hilt.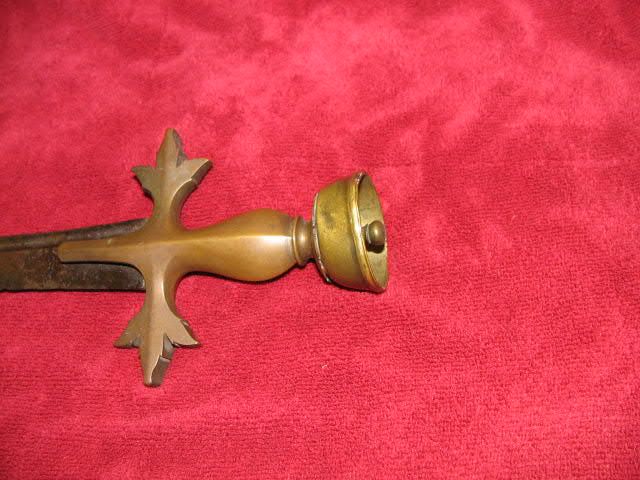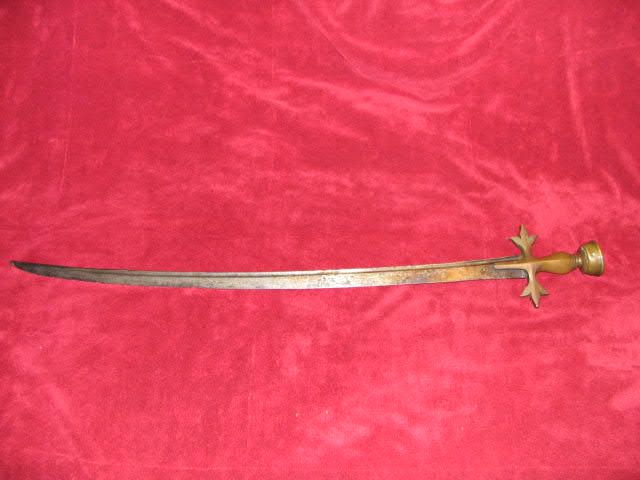 | | |
| --- | --- |
| Dajak | 11th June 2006 07:54 PM |
---
9 Attachment(s)
Hi yours looks more a batak sword than the one from vvv

here are some pics that show a dajak batung lupar that did use these swords too

And some pics from an Batak book
| | |
| --- | --- |
| VVV | 11th June 2006 10:03 PM |
---
Hi Dajak,

I am a bit disappointed and don't buy the old open cup/closed cup classification as a 100% indicator of Batak or Borneo origin.
As you know I have f.i. an extremely long Batak PP with a closed cup that once was in your collection.
The other reason, as I described above, was that several of them were popular trade blades produced in India and for them the open/closed cup tell sign doesn't work either.
The famous PP in Tropen was collected among Toba Bataks and has a variation of closed cup.
Also at least 3 of the Batak Piso Podang in the Leiden collection has closed cup (but I suspect two of them are trade blades).
However I agree that most of the time the Borneo Pedang hasn't open cup.
But sometimes the Batak Piso Podang has closed cup...

It's a tricky sword to classify and I think a lot more research has to be done on it.

Michael
| | |
| --- | --- |
| Dajak | 11th June 2006 10:08 PM |
---
Hi Michael that why I started this


I don t now and can tell this is Borneo or Batak

so I think the plain Handles are Batak and the other Borneo

I like to get more information about this too

The one you get from me is for sure Batak it have an plain handle
| | |
| --- | --- |
| VVV | 11th June 2006 10:23 PM |
---
Hi Dajak,

Sorry but I misunderstood your post.
As I wrote I don't think anybody for sure can separate your two swords.
The one with decorated handle could just as well be a trade blade.
The decoration on the Iban Pedang in Leiden, as well as the one in the Iban Art book, is different and more topographic as well as not floral.
But there are unfortunately just not enough documentation on this matter.

Michael
| | |
| --- | --- |
| Dajak | 12th June 2006 03:12 PM |
---
3 Attachment(s)
that is right Michael but not only Iban people live on the coast it is well known that the Batang-Lupar did use these swords

So does not have an Iban design


and on an website I did find an decorated one from Borneo but never see an decorated one from the Bataks

Take a look at this Handle this one sure Borneo
| | |
| --- | --- |
| VVV | 12th June 2006 08:14 PM |
---
Dajak,

That's a beautiful and rare Parang Nabur - congratulations on the nice find!
But to make it an indication, or a trend, unfortunately I think you have to find at least five of those that has survived or been documented somehow?
On the people living in the village of Batang Lupar they are classified as Sea Dayaks (Iban) according to Ling Roth.

Michael
| | |
| --- | --- |
| ariel | 12th October 2017 11:17 AM |
---
Resurrecting it after 11 years:-)

I see that all Piso Podangs have trilobate endings of quillons.


Does it mean that ALL swords with trilobate quillons tips hail from Sumatra/Borneo/Malaysia? Do we know of genuinely Indian examples with such quillons?

After all, this type of handle came to the "Malay" world from India.


Also, all "Malay" Piso Podangs have bronze/brass handles. Any iron ones that we know?
| | |
| --- | --- |
| CharlesS | 12th October 2017 02:25 PM |
---
Quote:
Originally Posted by ariel
Also, all "Malay" Piso Podangs have bronze/brass handles. Any iron ones that we know?
Good point Ariel. Yes there are piso podangs with iron hilts and ones with mixed parts, say a brass grip and bronze pommel. I have had some of these variations in my collection, though the overwhelming majority have been all brass.
| | |
| --- | --- |
| ariel | 12th October 2017 03:41 PM |
---
Thanks Charles!

Can you show Piso with iron handle that is verifiably "Malay"? After all, the cup-like pommel is old Indian: Jens showed a pic from Hamza-Nameh and Elgood
showed one from Brian Isaac in the chapter about "important swords"


As to bronze/brass distinction ... I have my, say, hesitations. Both are copper alloys and, taking into account rather primitive methods of smelting and contamination with various elements, it is often difficult to separate the two.

And what about the trilobate quillons tips?
| | |
| --- | --- |
| Rick | 12th October 2017 04:52 PM |
---
3 Attachment(s)
Not to barge in here, but while we're discussing sabres of this ilk, can any of you give me a hint as to the origin of these two?

I have only seen 3 of these in my years of collecting edgy stuff and would love to know their origin.

The blade with the unknown script is puzzling because the wire used for the inlay crosses the blade edge and continues to the other side and more unknown script.

Thanks
| | |
| --- | --- |
| ariel | 12th October 2017 05:11 PM |
---
To the best of my knowledge these are Sumatran.
| | |
| --- | --- |
| Dajak | 17th October 2017 06:02 PM |
---
Look like the Handle s made in Malaysia .
| | |
| --- | --- |
| kai | 18th October 2017 07:13 PM |
---
Hello Ben & Ariel,

This eagle-like hilt is not Batak and probably not a very old style (late 19th century?); I'd agree that it's very likely ethnic Malay in origin.

Whether any given example originates from either side of the Straits is probably a moot point considering the mobile life style of the coastal Malay population in the region, at least prior to independence.

Regards,
Kai
All times are GMT. The time now is

07:17 AM

.
Powered by: vBulletin Version 3.0.3
Copyright ©2000 - 2018, Jelsoft Enterprises Ltd.