| | |
| --- | --- |
| Freddy | 12th January 2005 06:20 PM |
---
A little help is welcome.

Some time ago, I found this sword in an antique shop in my home town. Although there were several African weapons in this shop, this one immediately struck my eye. It looked real 'rustic'.
It was also of a design, I had never seen before.
I did some research and contacted other African arms collectors, but the true origin of this piece remained a bit uncertain.
My first thought was Cameroon. Reason for this was the leather covered handle on the sword. I have a sword attributed to the Bali-tribe in Cameroon which has its handle also covered in leather, but the design of the sword and its handle is quite different.
Here are the measurements of the piece :
Total length : 43 cm
Length of blade : 32 cm
Width of blade : 6,5 cm (near the handle)
If anyone else on the forum has a better idea, please share it. I hate it when I can't determine a piece ! :D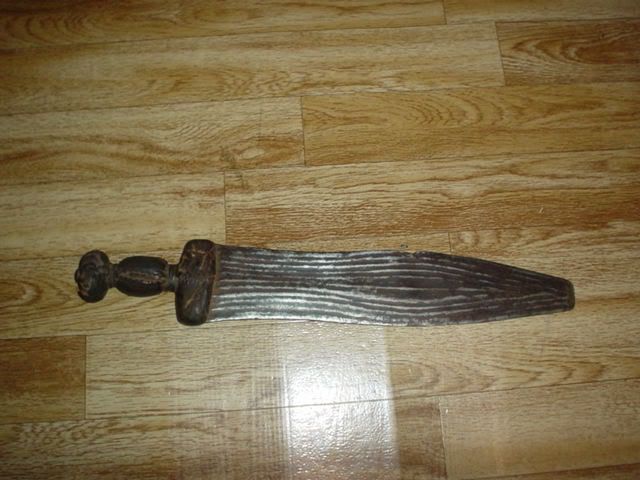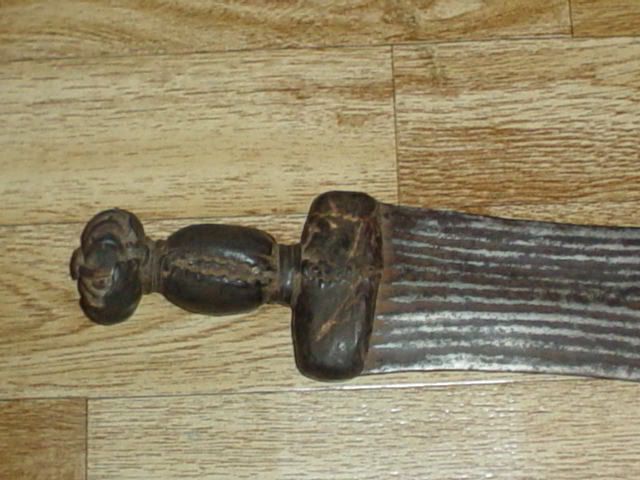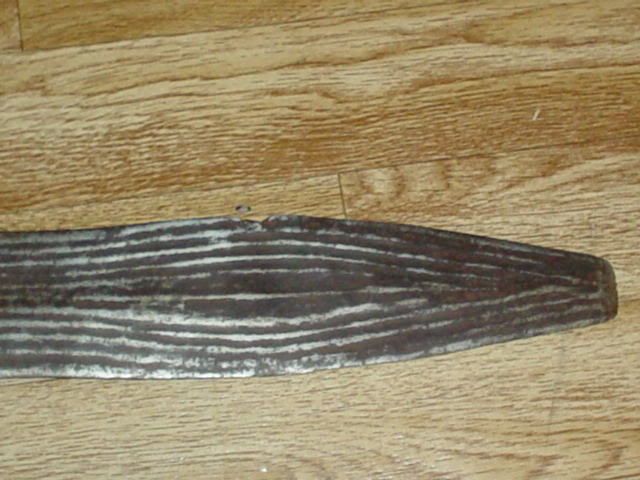 | | |
| --- | --- |
| Battara | 12th January 2005 07:29 PM |
---
Although I am not well versed in African arms (or legs for that matter :D ) it does look kinda Kuba to my eye, reminding me of a Kuba knife. There are others who can tell you more accurately than I here. Fella's?
| | |
| --- | --- |
| Freddy | 12th January 2005 07:38 PM |
---
I don't think it's Kuba. They don't use leather handles on their swords and knives. The shape of the blade is also different. The blades are often decorated with engravings, but these are more geometrical.
Here's a (copper) Kuba knife of typical design :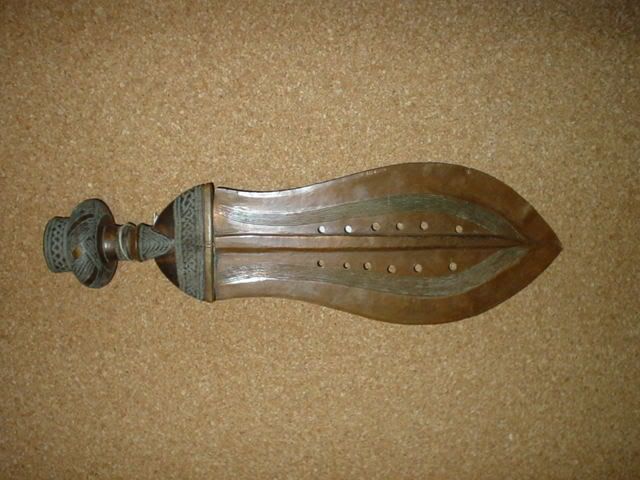 | | |
| --- | --- |
| Flavio | 12th January 2005 10:23 PM |
---
3 Attachment(s)
Hi Freddy, this knife/short sword it's particular but very beautiful.
I don't know with precision the provenience, but seems to me that remember some Tikar sword (Cameroon) in the "decoration" of the blade as you can see in some examples on Fischer/Zirngibl's Afrikanische Waffen.
To the contrary the general shape it's similar to the Baule sword (a part the tip of the blade).
| | |
| --- | --- |
| Andrew | 13th January 2005 12:45 AM |
---
Quote:
Originally Posted by Battara
Although I am not well versed in African arms (or legs for that matter :D )
*Groan* :p
| | |
| --- | --- |
| Freddy | 13th January 2005 07:53 PM |
---
Nice link

| | |
| --- | --- |
| tom hyle | 14th January 2005 02:15 PM |
---
Wow. Thanks. :) :D :p :) :eek: :)
| | |
| --- | --- |
| Tim Simmons | 15th January 2005 01:25 PM |
---
Preparing my pictures.Tim
| | |
| --- | --- |
| tom hyle | 15th January 2005 04:48 PM |
---
I'm nagged by the feeling that the hide covering on the handle is not original, but perhaps a repair (?) The carving on the pommel seems finer than would show well through it, and that doesn't seem "right". There's more, but start with that, if you will. You can look at the actual object, eh?....see what you think. The blade is really nice, and the pommel carving looks nice, but the hide work looks fairly crude; field-repair to tighten a hilt? to weatherize it? to bind splits? I recently saw an old Mexican army sabre whose entire hilt, handle, pommel, and brass barred basket, had been (seemingly and allegedly originally) covered in leather. I know that leather covered hilts are common in much of Africa, but this work looks to me atypical, mainly in its crudity, and crudity as compared to both other pieces as well as to other elements of this piece? Hard for me to tell from the pics though, whether it's crudity or just drying/damage???????
| | |
| --- | --- |
| Freddy | 15th January 2005 05:15 PM |
---
I don't think the leather covering is a repair. A lot of knives and swords from Cameroon have these. Look at the close-ups I made.
First view is the front of the handle. Notice the iron banding on the handle.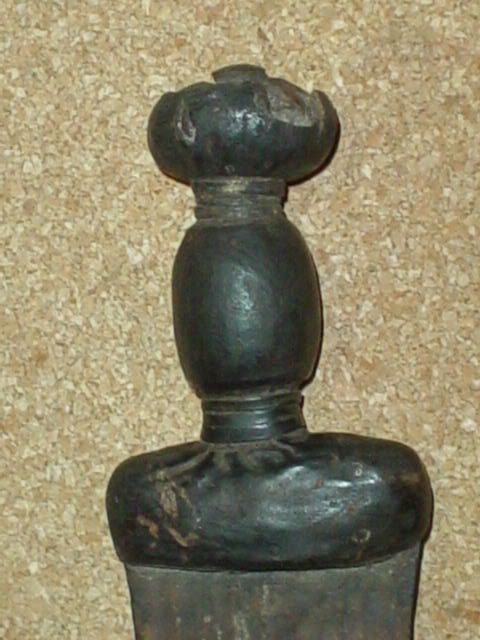 Second pic shows the back. The seam of the leather appears to be open. I think at one time the leather shrunk.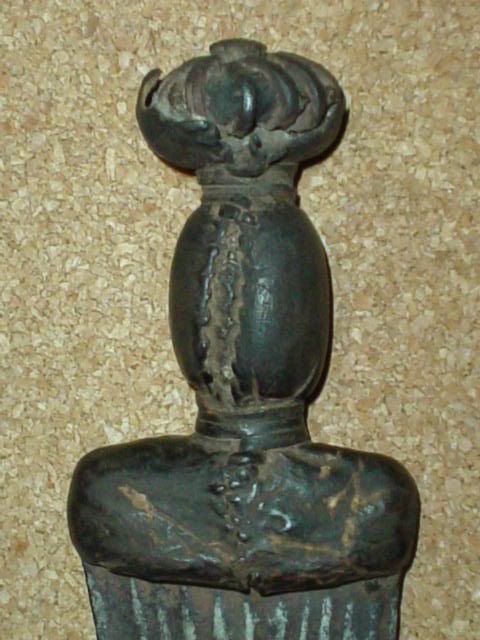 The pommel of the handle was once also totally covered with leather, but this has worn off, showing the metal 'skeleton' under the leather. In between, the space is filled with some 'soft stuff'. Can't make out what it is. :confused: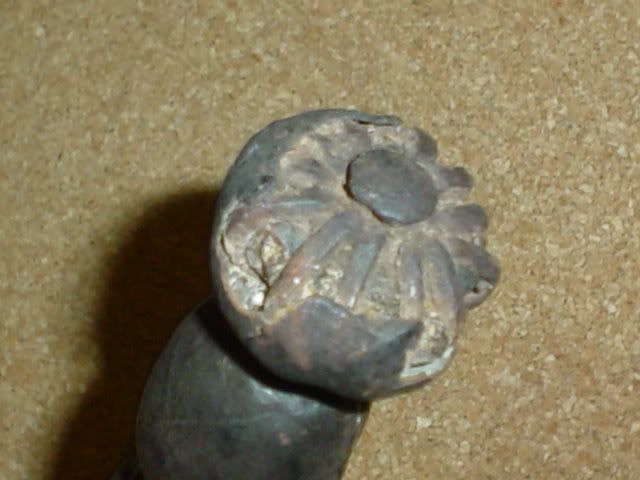 To complete the picture, a side view :
| | |
| --- | --- |
| tom hyle | 15th January 2005 05:22 PM |
---
Thanks a lot! I just expected words; pictures; 4,000 words or something. The construction is much different than I'd thought. The soft stuff could it be cloth, even? I've seen this in leather covered African hilts. I hadn't realized those bands were iron; I'm with you on the leather being original now. That is a big word "iron"; makes a big difference. I thouht they were leather. What a cool sword. The leather over metal over soft stuff constuction is seen on takouba.....
You know, sometimes the similarities and universality of concept and design fascinate me, but also, just the amazing variety; it often seems inconceivable it can ever all be catalogued or understood; what an enormous challenge................
| | |
| --- | --- |
| Freddy | 15th January 2005 05:40 PM |
---
In this thread Flavio showed some pics from Zirngibl and Fischer (by the way, a great book !).
Here's one of the pictured sword 'live' :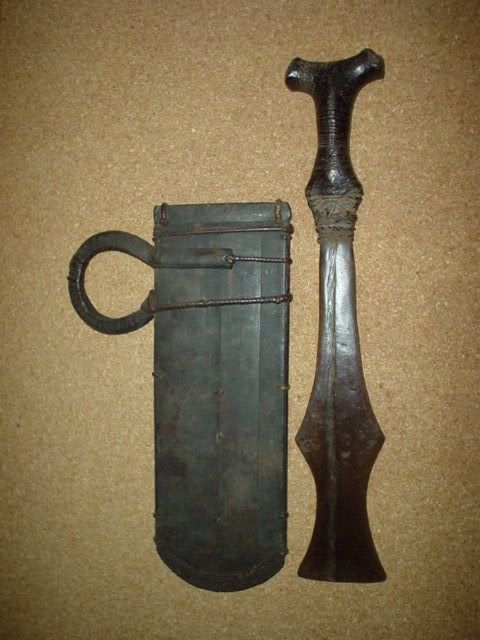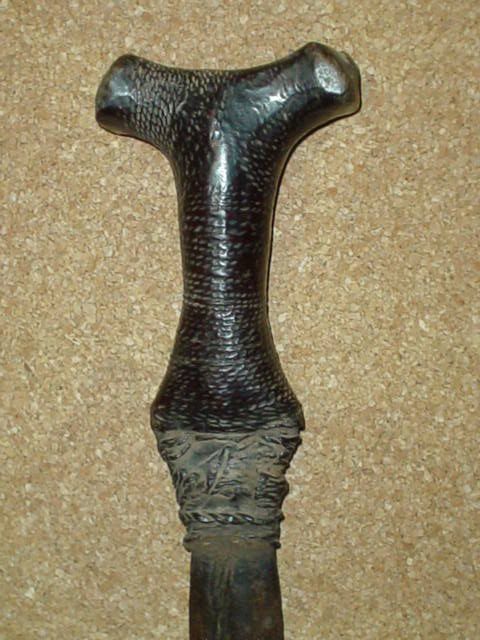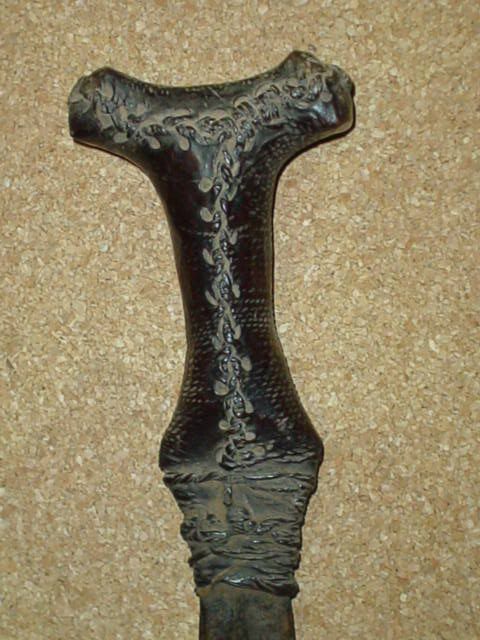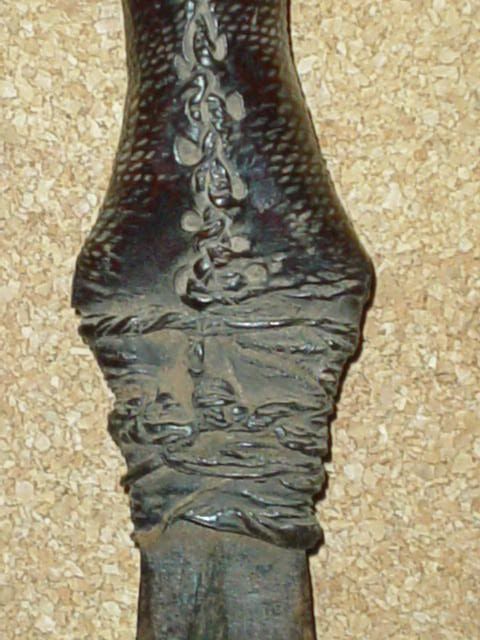 Notice the similarity in construction of the handle (not the shape, of course). Some kind of material, I think it's a piece of wood bound with cord, covered with leather. The second pic shows the front, the third the back of the handle.
This sword is attributed to the Bali-tribe living in Cameroon. The sheath consists of some wooden pieces held together with rattan binding. The loop is also covered in leather.
When I found this piece, I didn't know anything about it. I had never seen a similar sword, but I had to have it. I just couldn't resist. A friend pointed out to me that he found a similar one in the book of Zirngibl and Fisher.
When you find something that really gets to you, first buy it and think later :D .......no matter what the wife says :cool:
| | |
| --- | --- |
| capt.smash | 15th January 2005 07:00 PM |
---
A sweet find :)
All times are GMT. The time now is

10:46 PM

.
Powered by: vBulletin Version 3.0.3
Copyright ©2000 - 2019, Jelsoft Enterprises Ltd.