- -
african dagger
(
http://www.vikingsword.com/vb/showthread.php?t=1475
)
| | |
| --- | --- |
| ronpakis | 13th November 2005 02:44 PM |
---
african dagger

3 Attachment(s)
Hello all,

i know its an african dagger but can anyone tell me something about age and region.

thanks for any information
| | |
| --- | --- |
| Lew | 14th November 2005 02:18 PM |
---
Hi Ronpakis

Your dagger is from the Hausa tribe in Nigeria. It seems to be old early 20th century is my guess?


Lew
| | |
| --- | --- |
| Freddy | 14th November 2005 04:30 PM |
---
I think Lew is correct.
The dagger looks 'genuine'. By this, I mean that it's a well made dagger. Look at the spine (is this the correct word ?) of the blade. To give an age for these daggers is always difficult. They are still used today.
This type of dagger is often offered on ebay. The ones with a completely flat blade are made for the tourist trade.
Look at the following daggers. I bought them for just that reason. Their blades are not entirely flat.
These are armdaggers found all over the subsaharan region and also into Nigeria. The reason for this is the system of long distance trade by caravan.
These daggers are carried on the upper arm.
They are made by a caste of blacksmiths of the Tubu-Daza in Northern Chad.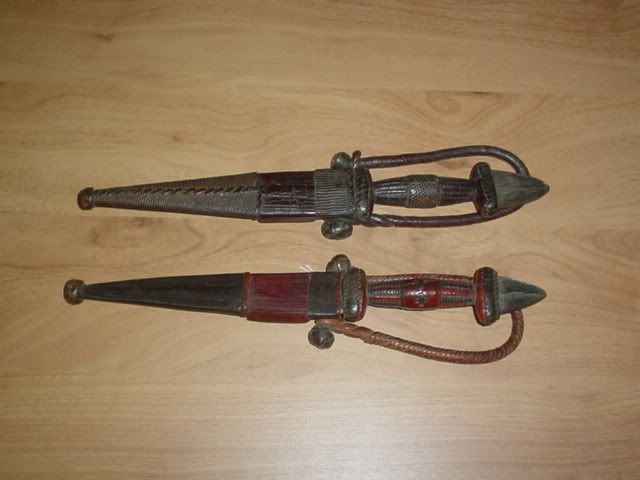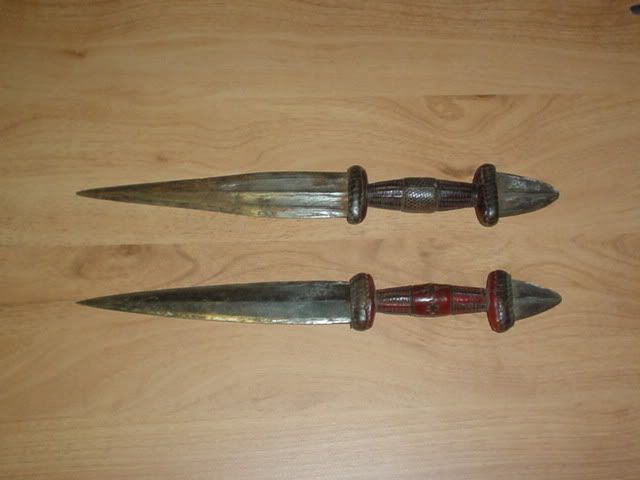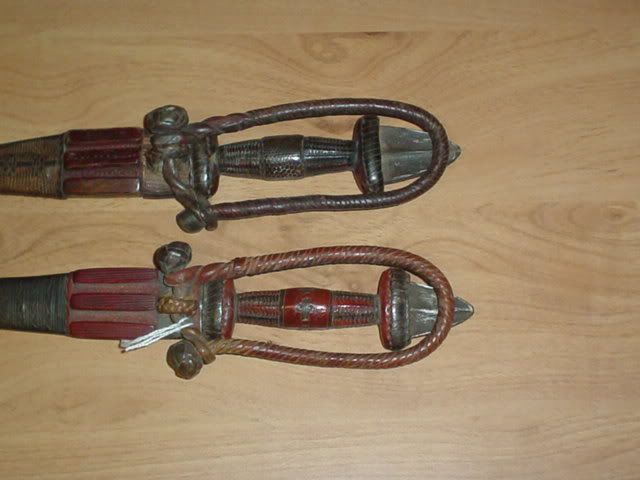 Length of both about 29 cm (in sheath)
| | |
| --- | --- |
| ronpakis | 16th November 2005 05:33 PM |
---
thanks for the effort and responses.

sander
All times are GMT. The time now is

11:06 AM

.
Powered by: vBulletin Version 3.0.3
Copyright ©2000 - 2018, Jelsoft Enterprises Ltd.