| | |
| --- | --- |
| Half Moon | 26th August 2010 03:19 AM |
---
My Newest Acquisition

I picked this up while on vacation a month ago. I got it at a roadside swap meet. I was lamenting passing up a Dha sword and on the way home stopped and made a score. I hope.
I was told it is a Tuareg sword, but I haven't a clue about Tuareg blades, so I don't really know. I have looked around on the web for similar blades but haven't seen anything like it to know one way or another what it is.
The thinnest portion of the scabbard seems to be leather only while the thicker portions seem to be leather covered wood. The back of the scabbard has no sewing, the seam looks to be glued. The colors in the photos are pretty true. I can take more pics if needed.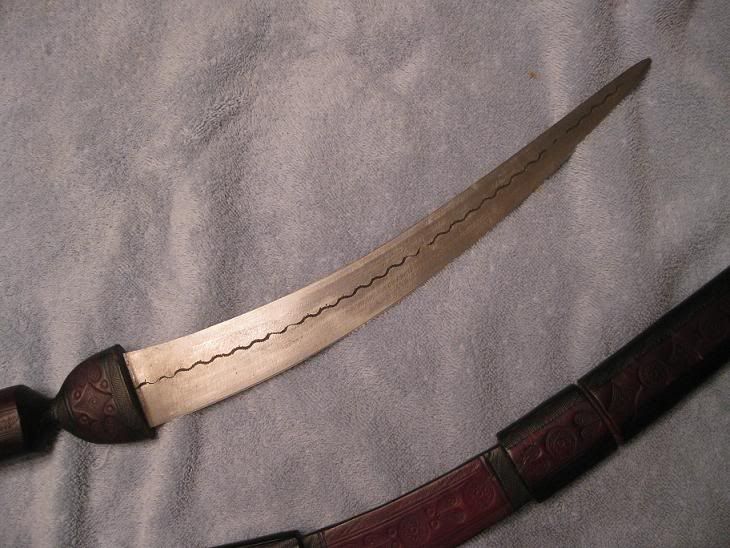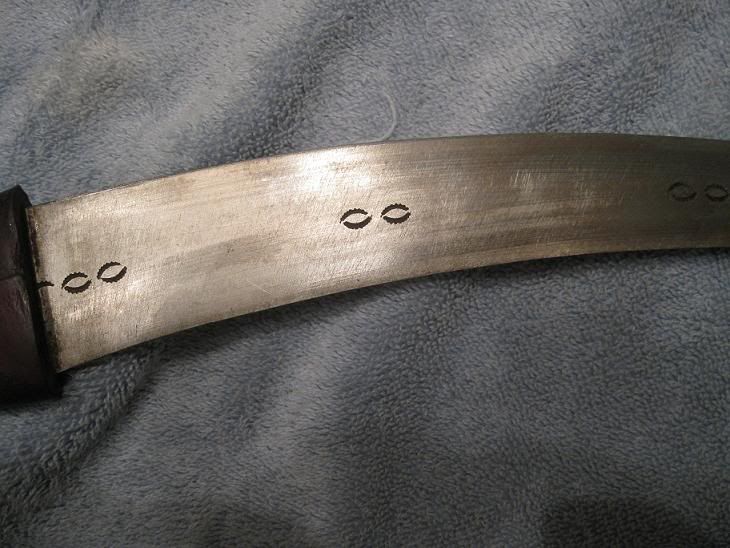 | | |
| --- | --- |
| Iain | 26th August 2010 07:23 AM |
---
Hi,

It is Tuareg, but of a form made recently for the tourist trade rather than the traditional takouba or telek (or other arm dagger) forms.

That is not to say it isn't a well made and serviceable item though. The Tuareg still manufacture takouba for their own use, the sword is often still carried and still very much has a role in their culture and way of life. These tourist blades are usually made from the same materials and to the same standards.

The blade is likely sheet steel and of course the traditional and highly decorative Tuareg leatherwork is evident.

My guess would be this piece is from the last twenty or so years.
| | |
| --- | --- |
| Emanuel | 26th August 2010 01:25 PM |
---
Hello, this is indeed a new creation for the tourist markets.
Actually my first or second post on this forum five years ago concerned an almost identical piece:
http://vikingsword.com/vb/showthread.php?t=983
The leather work is probably the nicest thing about these.
Emanuel
| | |
| --- | --- |
| Half Moon | 26th August 2010 10:39 PM |
---
Thanks ispn and Emanuel.

The seller didn't overrate the sword I'm glad to say. He also believed it was a touristTuareg. Glad to know I bought it from someone who wasn't looking for a mark.

My interests generally lean towards Sudan and the NWF but the leatherwork on this item certainly attracted me. Since it was exactly as advertised I'm glad I picked it up.

I popped over and saw your version Emanuel, It's a looker.
| | |
| --- | --- |
| Iain | 27th August 2010 07:51 AM |
---
Well as you got exactly what was advertised I'd also be enjoying the piece without regrets. It's an aesthetically pleasing item for sure.

One of the more fascinating aspects for me with African and ethnographic arms in general, is the evolution we can witness of the designs right into modern day items. For this reason I still occasionally, knowingly buy newer takouba because I feel it's important to include the entire timeline of the type in my collection.

While tourist items are often shrugged off by collectors it's also important to remember that the manufacture of these items helps to keep traditional crafts alive, such as the leatherwork on your knife.


Best regards,

Iain
All times are GMT. The time now is

01:54 PM

.
Powered by: vBulletin Version 3.0.3
Copyright ©2000 - 2018, Jelsoft Enterprises Ltd.