| | |
| --- | --- |
| Hotspur | 3rd July 2009 07:55 AM |
---
Small Philippines? Knives

6 Attachment(s)
I had adopted this item from a friend, mostly for closer inspection and in working with polishing the blade I wondered two things. Firstly, in that the general form seems fairly common, especially as tourist items but the questio is; Were these derived from a common utility knife in this size, or simply trinkets? This one is roughly seven inches long in its scabbard. A diminutive two finger handle and less than five inches of blade.

In working on removing scratches and nicks of the blade, another question came to mind because of what I may see in the depth of its grain. Is it possible that meteoric steels find there way into such trinkets?

A very pretty piece of horn and the fittings were also better appreciated once in hand. I don't have great pictures of the blade at this point but in going though stages to bring it quite bright, it seems the blade has a certain inner frosty look to it. I had also removed a good bit of the plating down to copper and have been woring on new plating via a product simply named Silver Secret.

This item has become a great letter opener and the blade quality fine enough to reach close to razor sharp.

Thanks for any considerations others may have regarding these diminutive knives.

Hotspur; I have only a very small collection of island type pieces
| | |
| --- | --- |
| Emanuel | 3rd July 2009 01:03 PM |
---
Hello Hotspur,

Nice to see you here, in the past I've enjoyed your posts on swordforum.

What you have is a gunong from the Philippines. Search the forum, you'll find quite a bit of discussion on them.

I have one similar to yours, but the blade is not plated and it has luks (waves). The fittings are white metal - aluminium likely, so I guess dating from after WWII. I will post some pics when I get home. It seems as though mine is pattern-welded and I've been meaning to try an etch on it. Try to etch yours, you might find a pattern.

Regards,
Emanuel
| | |
| --- | --- |
| David | 3rd July 2009 03:25 PM |
---
4 Attachment(s)
Hi Hotspur. As Emanuel has stated, this is a gugong. While it is true that these are made today mostly to serve a tourist market the form itself is hardly meant as a "trinket". These are utility knives meant in many ways to be smaller versions of the more weapon-like and imposing kris. They also served as a close quarter, often hidden weapon. They date back at least to American colonial days and probably a bit before that. They became a somewhat more important item after Gen. Pershing banned the wearing of sword by the natives. Since this was an important part of cultural attire the gugong allowed them to still wear a bladed weapon that was acceptable to colonial law.
From the photo of the blade before you cleaned it up it looks like yours might well be a lamenated blade. AFAIK meteorite was not used much in the creation of Moro weapons and i would say that it is highly doubtful that it was used in yours. You say the fittings are silver-plated copper? So the way it looks now is based on your "re-plating"? Aluminum became a rather popular material for these post WWII. It doesn't seem that yours is aluminum, though it still could be post WWII. Yours does not seem to be a particularly old one, but it does appear to have some age. They has not changed much over the years so i would guess yours could be as old as WWII or the 1980s or so. :shrug:
Here's my only gugong. It is closer to the 1900 mark. You will note that one difference with older gugongs is that the hilts tend to be more elongated, less bulbous like yours. The guard on mine has been made with an old silver coin, probably a replacement. Blade is a little longer than yours, just over 6 1/4 inches. And mine is a curvy blade. I would still like to find myself a straight one from the same period. :)
| | |
| --- | --- |
| kronckew | 3rd July 2009 04:43 PM |
---
some more observations:
newer gunong tend to have a flatter blade profile, sometimes with no central ridge. lucs are generally more abrupt. (top)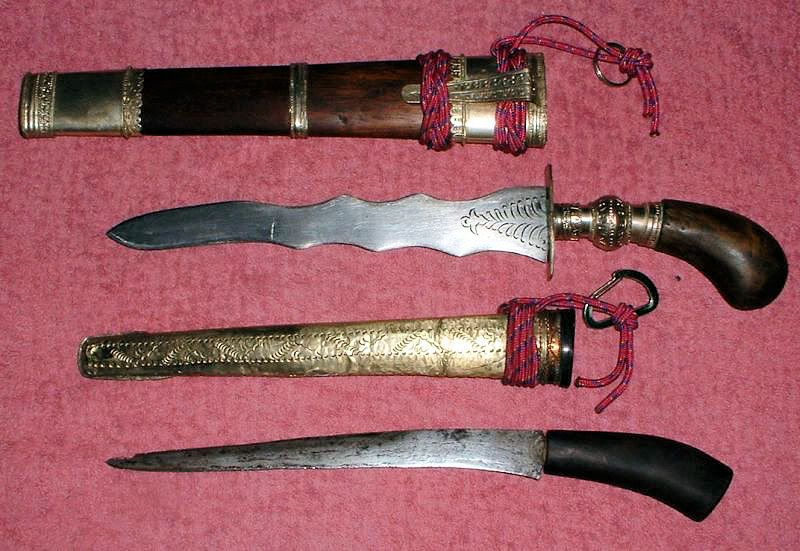 the gunong is frequently found with elaborate blade engravings in addition to being made out of fine laminated or pattern welded steel.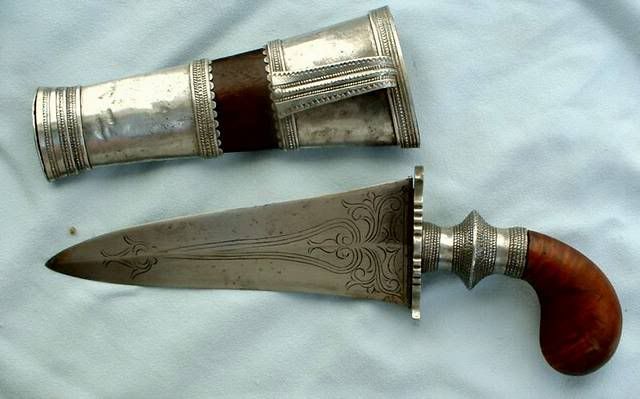 other blade profiles are also found. steve ferguson has most of them.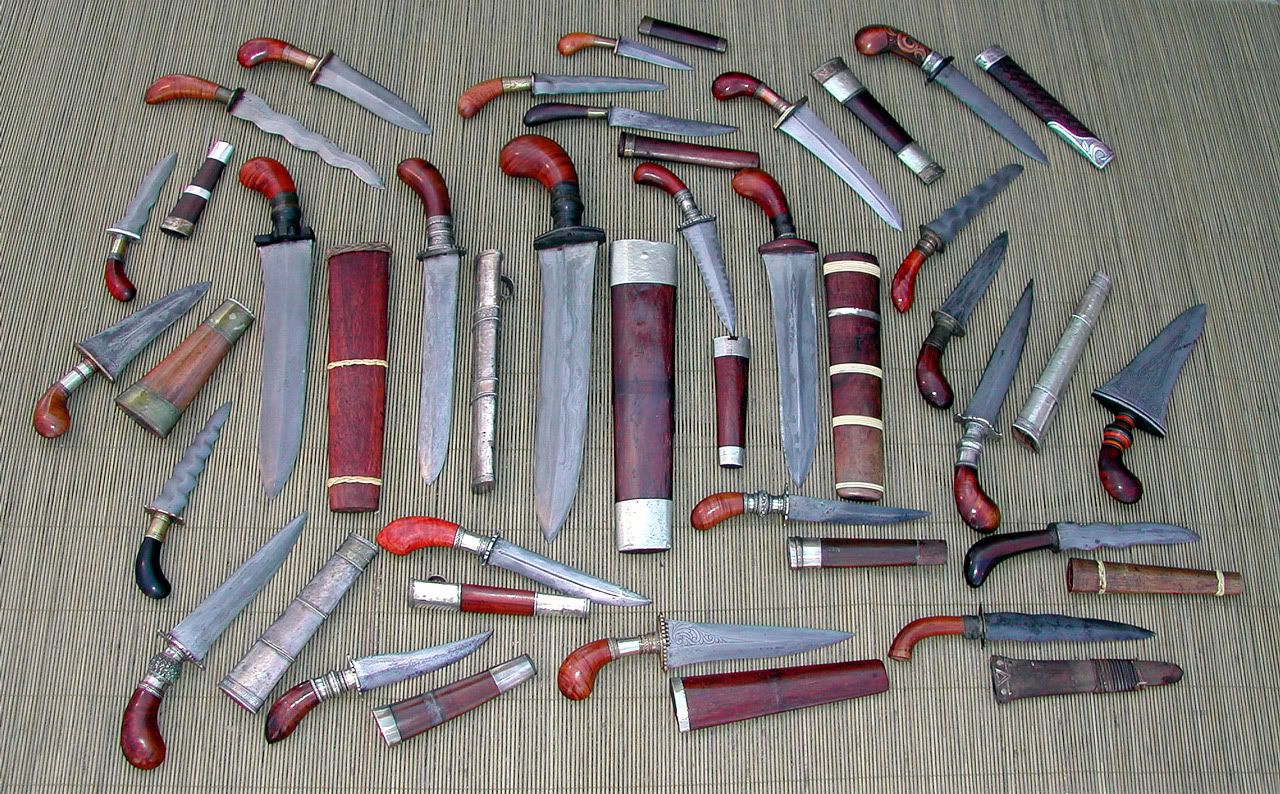 a search here on gunong will bring up a wealth off info, and some startlingly beutiful etched patterns, mostly by our member 'ferguson' (steve) who is the gunong king ;)
| | |
| --- | --- |
| Hotspur | 3rd July 2009 04:57 PM |
---
Thanks much for the information. The thirty year old time frame seems to be what the last owner had mentioned as well. This answers my thuoghts regarding general utility as well. While not as sturdy as it might be, the blade shape seems to come in handy for more than just as a letter opener.

Thanks again

Hotspur; I'll need to look towards the history a bit. It is a timline and society I know very little of
| | |
| --- | --- |
| Ferguson | 3rd July 2009 06:21 PM |
---
Hello Hotspur,
While not old, it's not a bad one. The blade looks nice and heavy. Etching the blade may prove that it's pattern welded.
Not a bad one to start on!
Steve
Here's one of mine in a similar style.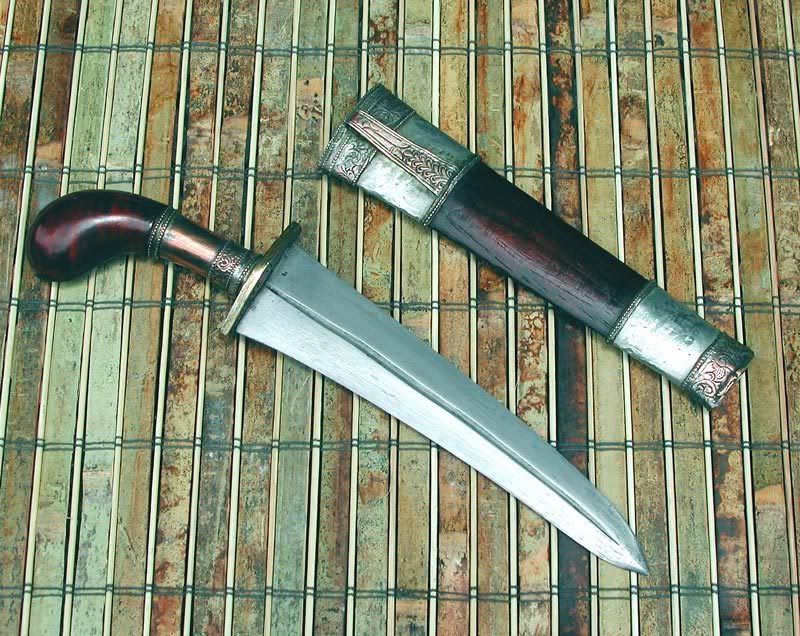 | | |
| --- | --- |
| David | 4th July 2009 03:59 AM |
---
Yes, as mentioned, Steve Ferguson has just about all of the good gugongs ever made. ;) :rolleyes: :D
He can show you some beauts! :)
| | |
| --- | --- |
| Hotspur | 4th July 2009 06:12 AM |
---
Call me weird but I have kind of been enjoying at the 1500+grit size and may go finer. There is a liquid depth I can see visually. It is that frosty depth at high grit that did pretty much assure me of piled construction but it is also that same frostiness that kinda made me wonder about meteoric ores. The one Steve shows (and in his spread there) is quite like that one in blade form and it looks like copper fittings under plate as well. I can see how they could become almost too tempting, as I have been seeing them everywhere now with the one in hand.

Thanks again for the information and great photos.

Cheers

Hotspur; well. ok. I have some mustard right handy
| | |
| --- | --- |
| Emanuel | 8th July 2009 12:13 AM |
---
3 Attachment(s)
Here is my example with white metal fittings. I haven't etched it yet but there does appear to be lamination in the blade.
All times are GMT. The time now is

11:19 PM

.
Powered by: vBulletin Version 3.0.3
Copyright ©2000 - 2018, Jelsoft Enterprises Ltd.