| | |
| --- | --- |
| Ferguson | 4th March 2006 10:20 PM |
---
Tibetan knife for comments

Found this on Ebay. Supposedly from Nepal. It may be a tourist piece. The blade's not terribly hard. But the engraving is nice. Dragon on one side, fish on the other. But it's a purty thang.:) Anybody know about these?
Thanks!
Steve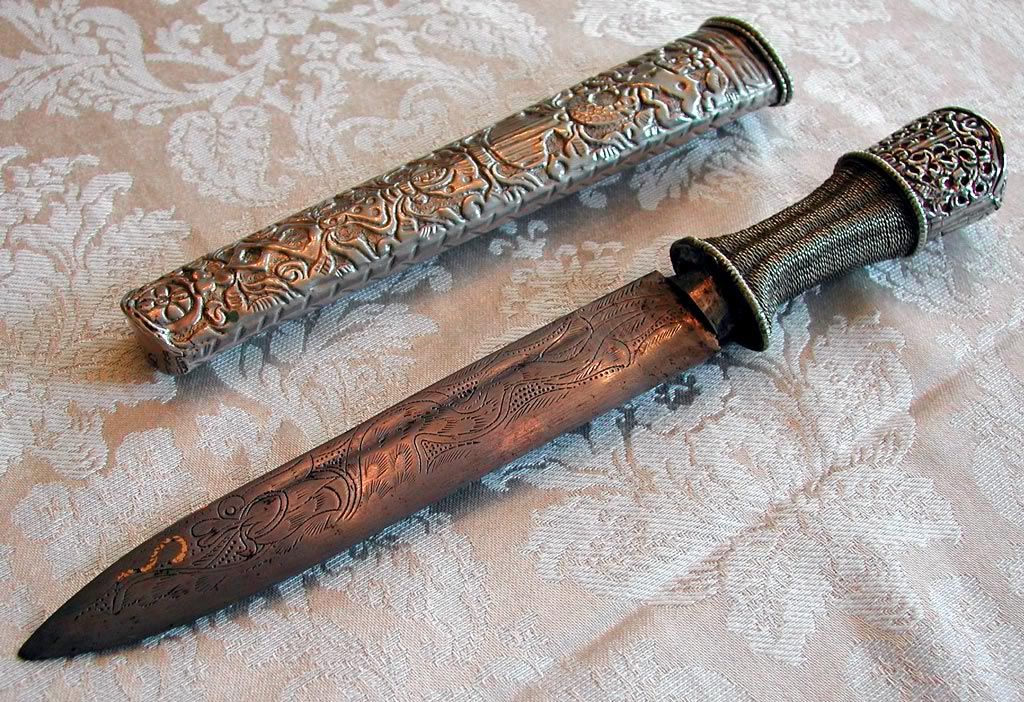 | | |
| --- | --- |
| RobT | 5th March 2006 12:34 AM |
---
Made for the locals?

Hi Ferguson,
There are a lot of these pieces being offered on ebay by Chinese merchants. While I doubt any of them have any real age to them, I don't think they're all tourist blades. The one I have looks like it was meant to be used and seems to be of the quality and durability of an inexpensive camping knife. There is a deep factory stamp (that is made to look like a chop) next to the horn hilt that reads HUSA with a sword above it. The tang is threaded to accept a hexagonal cap nut. The barrel of the white metal scabbard is of one piece that is joined at a seam down the back. Separate pieces are soldered to the barrel to form the throat and chape. It appears, given its regular nature, that the deep embossing on the scabbard front was made by a stamping machine. The scabbard's wood liner is thick and fits the blade very well. The blade spine at the hilt is 5/32" thick. The blade is 9.5" long and has two narrow fullers on each side. I think that small Chinese factories made these blades to sell to the Tibetan, Bhutan and Nepal markets and then discovered an international market through ebay.
Sincerely,
RobT
All times are GMT. The time now is

07:39 PM

.
Powered by: vBulletin Version 3.0.3
Copyright ©2000 - 2019, Jelsoft Enterprises Ltd.