- -
Parts of armor
(
http://www.vikingsword.com/vb/showthread.php?t=7001
)
| | |
| --- | --- |
| Ed | 9th September 2008 12:35 AM |
---
Parts of armor

This illustration was from the program for "A Triumph Holden at Shakespear's England".
This event was really the apotheosis of the Gothic Revival era. It gathered together the noble and wealthy to "recreate" a joust. "Shakespear's England" was not a romantic description of a time it was an actual venue created by Jeannie Churchill (Winston's Mom) that recreated London of Elizabeth's time.
WW1, sadly, brought such things to an end.
It is a useful reference to have handy.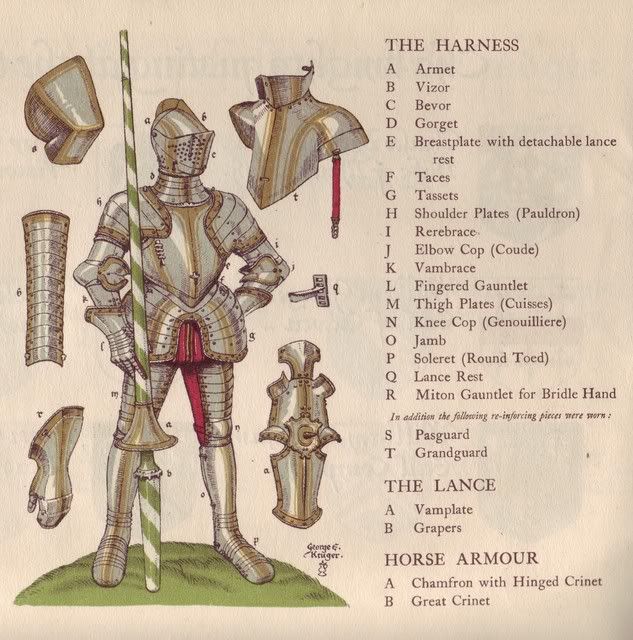 | | |
| --- | --- |
| Jim McDougall | 11th September 2008 07:33 PM |
---
Thank you for posting this here Ed, and for the fascinating background.
I think this is great to have a guide to the various armor components to refer to as discussions develop on this topic. Actually in a most interesting perspective, its almost like an 'anatomy of armour'. I honestly never thought of the complex terminology used for 'harness', the term used for armour in those times as I understand (found that while trying to look up some of the terms:)
I think its a great idea to have this thread as kind of a glossary on armour components for referral, and I think the terms themselves are fascinating. The etymology of terms for arms and armour has always proven to be anything from interesting to mysterious to very entertaining to me (some terms seem to have had unusual colloquial nicknames).
| | |
| --- | --- |
| Ed | 11th September 2008 10:27 PM |
---
Gosh, I should have pointed out that one notable personage associated with the "Triumph" was Sir Guy Francis Laking, Keeper of the Wallace, former of the collections at the London Museum and author of the redoubtable "History of Arms and Armour Through Seven Centuries".

That said I would bet that this is his work even though he didn't execute it.
| | |
| --- | --- |
| migueldiaz | 22nd December 2008 05:08 PM |
---
4 Attachment(s)
| | |
| --- | --- |
| fernando | 22nd December 2008 10:16 PM |
---
Is this on-topic?

2 Attachment(s)
Parts of a Milaneze garniture atributable to Portuguese king Dom Sebastião (1570).
Rainer Daehnardt collection.

Fernando

.
| | |
| --- | --- |
| Titus Pullo | 18th February 2011 03:27 PM |
---
Sometimes, I wonder how they went to the bathroom if they had to go right before a battle.... [laugh] If you needed to go, that would be the time! [laugh]
| | |
| --- | --- |
| Joe082 | 13th October 2011 06:10 PM |
---
One must assume that it would have happened and probably it would not have been a rare incident. There were only two options:
a. Hold it until you can take off your armour
b. Relieve yourself in the armour.
The latter was probably the only realistic option.
| | |
| --- | --- |
| Joe082 | 13th October 2011 06:29 PM |
---
3 Attachment(s)
To continue with these examples of fine armour I would love to submit these pictures.
The first two are the ceremonial armour of Grandmaster Alof de Wignacourt. He was Grandmaster of the Knights Hospitaller between 1601 and 1622.
The last picture is his horse's Champron.
All times are GMT. The time now is

05:43 PM

.
Powered by: vBulletin Version 3.0.3
Copyright ©2000 - 2018, Jelsoft Enterprises Ltd.