posted 11-03-2002 10:51
---
Please note: The pictures shown here are wider than usual (800 pixels) to display some of the finer details on blades, and will not display completely if your screen resolution is set to 600 x 800 (SVGA) or less. Please let our Web master, Lee, know if this presents a problem.
I have been meaning to write about contemporary swords made in Thailand for some time. There is a profusion of these swords on eBay and elsewhere, often misidentified as Burmese, Vietnamese, Montagnard, Chinese, and sundry other countries -- the most bizarre attribution I have seen was probably "a 17th C cossack sword."
While tourist/replica swords have been made for a long time in Thailand, I think a large number of these swords were produced in the period 1965-1972 and aimed at the GI stationed in SE Asia. Not surprisingly, many of these bring backs appear on the U.S. market. There are similarities in these swords that speak of a common origin in Thailand, even though some may have been purchased in Vietnam or elsewhere.
It is important to be able to identify these visually (because that is all we have on the web), and the flimsy construction of many of these swords is often not apparent from the tiny pictures we have to deal with.
I've organized this discussion into three sections. The first section describes some of the general features of Thai swords. The second provides a few examples of recently made swords that I have picked up over the years; I don't have many, so I will use examples from Therion's web site to fill in some of the gaps -- these are identified correctly as late 20th C. swords and knives on that site (thanks to Hal for letting me use his pictures).
The last section features specific marks on the blades of these swords, and other distinguishing features that aid with their accurate identification.
I know of no good reference for Thai swords and knives. What follows below is based on my personal observations, sporadic trips to Thailand over the last 35 years, and discussions with people who have collected or traded Thai swords there. My knowledge is sketchy and not the product of rigorous research or study. As always, I welcome corrections and comments.
Some illustrations of Thai swords can be found at the following URL (click on "WEAPONS")
http://www.usmta.com/thai-weapons.htm
In a post below, Conogre also mentions the Aranyik offerings of modern interpretations of traditional Thai swords. I'm not plugging them, but from what I have seen the swords appear well made and at the high end of the current tourist market production. Here is the URL to their web site.
http://aranyik.hypermart.net/html/swords.html
1. General comments about Thai swords
Blades
To the best of my knowledge, Thai swords and knives almost always terminate in a pointed tip. There are Thai choppers that have a squared-off end, but these are primarily used as tools (I won't get into the tool versus weapon debate here, but will simply say that blunt ended Thai edged objects are not primarily intended to be weapons -- could be used as such, but not made for that purpose). I have been shown three swords that were definitely Thai in origin that did not end in a sharp point. These were family heirlooms and had either a spear point or, in one case, a katana-like tip. For the purpose of the present discussion of recently made Thai swords, it is not surprising to see them made in the older styles with pointed tips also.
The second feature that appears on many Thai sword blades, and some knives, is a widening of the blade, usually in the distal third of the blade's length. Having reached its maximum width about 3-6 inches from the tip, the blade then narrows such that the terminal sharpened edge quite abruptly approaches the point in a shallow curve (the edge being almost straight in this area in some cases). The swelling of the blade varies considerably, from virtually no change in blade width to a three-fold increase in width. In many cases the maximum width is about 1.5 times the width of the blade at forte. Some similarity has been noted between Thai blades of this form and the Chinese Niuweldao or "Ox tail saber." (Cambodian and Lao swords may also have blades that widen towards the tip, but I use this feature (when present) as one way of helping to distinguish Thai swords from Burmese, which generally do not show much widening of the blade from hilt to tip.)
The back of the blade may be straight or concave; marked curvature, such as seen on a shamshir, is rare. Slightly clipped blades do occur, and this feature can be present also on older swords from Burma, Cambodia, and Laos. Sharpening of the back edge towards the tip is extremely rare in my experience. Some older Thai swords have a peaked spine -- this was not a unique feature of Thai weapons -- but it is not seen on contemporary swords. The spines of older Thai sword blades were sometimes as much as a half inch thick at forte; recently made blades are closer to a quarter inch (or less). Older swords sometimes had silver or brass inlaid lines or "squiggles" running down the spine of the blade. I have not seen similar features on contemporary swords. Recently made Thai swords may have a row of lines incised across the spine or a short inset of brass or copper (see below). Swords dating from the first half of the 20th C (mostly those made after 1920) also had occasional lines incised on the spine, but the inlaid metal decoration seems to have appeared after WWII.
Hilts
Hilts vary widely. Older Thai swords show great variation in the length and styles of hilts. Some of the longest hilts on Asian swords (sometimes with a hilt/blade ratio greater than 1.0) are found on Thai weapons. I believe many Thai swords were intended for two-handed use, or could certainly have been used as such. Some Burmese, Cambodian, and Lao swords also have long hilts, but this feature seems more prominent on Thai weapons.
Guards are an uncommon feature on traditional Thai swords. When present, these are usually plain, small, circular or oval disks. Similar features occur on some Cambodian and Lao swords, and are quite common on Vietnamese dha/dao.
Traditional Thai hilts have a blind tang construction (similar to those of Burma, Cambodia, Laos, Vietnam). While Thai hilts can be very plain and resemble those of neighboring countries, there is a hilt version that is relatively distinctive. This has a circular handle with a metal ferrule that flares out in a bell shape adjacent to the blade, and a pommel that is also metal and terminates in a pointed finial. Brass and silver are the two most common metals found on Thai swords.
More commonly, hilts are wood with small ferrules at either end of the circular handle. The central portion of the hilt is often wrapped with braided strips of rattan, or the wood may be left bare. Carving of the wooden hilts is uncommon and, I believe, largely confined to the hill tribes of the northern areas of Thailand. Some recently made hilts on tourist swords have been turned on a lathe and some are heavily carved. Higher end swords often have substantial silver decoration.
Scabbards
Scabbards are wooden, made in two pieces that are hollowed on the inside to accept the blade. Often the wood is stained or painted black, and older scabbards may be lacquered thickly with a shiny finish. Thin rattan strips, often in pairs, hold the two pieces of wood together. The scabbards of more expensive swords are sometimes covered partly or wholly with thin silver or brass sheet with wire decorations. In the style of the northern hill tribes, there may be a cord wrap near the throat of the scabbard and a baldric for wearing the sword slung over a shoulder or across the chest.
An illustration of how these swords are worn can be found in the archives of the US Center for Military History. The following is a picture from that web site of Kachin Rangers: each man is wearing his traditional dha and has been equiped with a variety of US military small arms (the Kachin are a northern Burmese tribal group, but the style of wearing the sword is the same as northern hill tribes in Thailand). The baldric is worn over the right shoulder and across the chest, but the sword appears in various positions, including high under the left arm, low at the left side, and lying across the chest. Despite their rather rag-tag appearance, the Kachin Rangers were fearsome fighters who helped U.S. and Allied troops halt the Japanese advance in Burma and keep the Burma Road open.

(Published in David W. Hogan, Jr., US Army Special Operations in World War II. CMH Publication 70-42,
Department of the Army, Washington, D.C. 1992)
Here is another picture of a young northern Thai couple, with the man wearing his darb slung over the left shoulder. The sword has a plain, rattan-wrapped grip and scabbard, and no guard on the hilt. This is an old post card from c. 1900.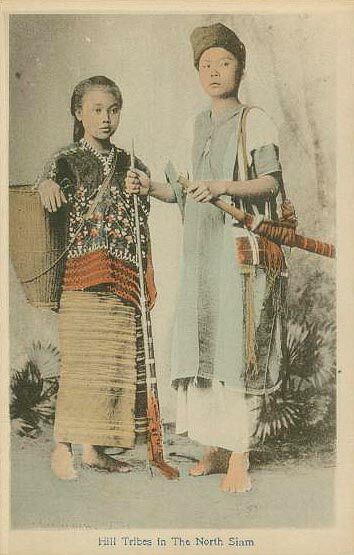 (Personal collection)

Thai knives
Thai knives are even more variable in their blades, hilts, and materials used. Some of the general comments above apply to a large fraction of Thai knives, but there are many other variants. Rather than trying to describe these in any detail, I suggest that those interested in Thai knives look for examples on the web and try to form your own opinions. It really is hard to generalize.

2. Examples of recent Thai swords
Example 1. Thai sword and knife
The following picture shows a Thai sword and similarly styled knife that are typical of pieces produced since about 1965. These probably date from the 1980s or later. The blades of both show slight flaring in width towards the ends, and after reaching maximum width they have slightly curved cutting edges to the tip.
The hilts are the "plain" variety, with thin brass ferrules at either end and a cylindrical Handle. The grip of the sword is wrapped with many thin strips of plaited rattan. The grip of the knife is wrapped with gray cord. The butt of each handle has a round piece of thin brass sheet secured with a nail.
The wooden scabbards are covered with black gloss paint. The sword scabbard is held together with pairs of plaited rattan strips and has the typical cord wrap and baldric. The scababrd for the knife is bound with strips of thin brass sheet that are held in place by punching small dents into the brass and underlying wood. The latter is usually indicative of cheaper construction than rattan wrapping, and often signals a tourist grade piece.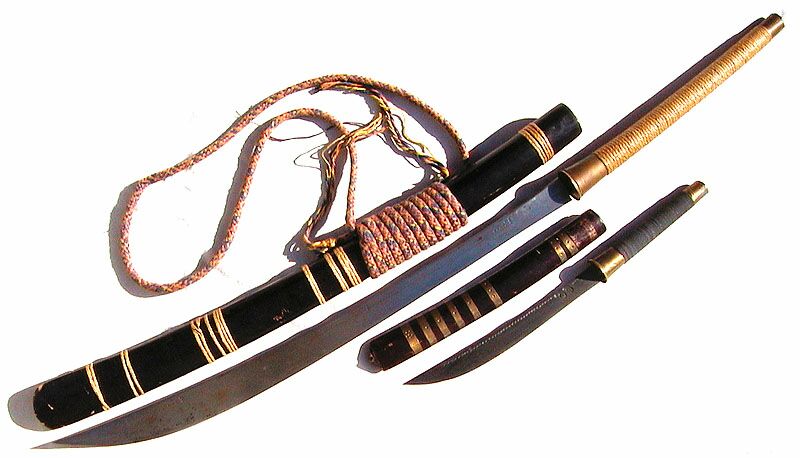 (Personal collection)

Example 2. Stag horn hilted dha
This one has a similar blade to the sword above but an unusual stag hilt that I have not seen very often on these swords, although similar stag hilts were discussed recently on this Forum in relation to Cambodian knives.
For some time I thought that the handle was a rehilt in the US, but I now think it is almost certainly original and probably derives from the northern tribes of Thailand who have access to a local deer species similar to the one in Cambodia.
The blade on this one is very thin and would make a poor weapon. It was sold to me as a "Vietnamese Officer's Sword." It was a Vietnam era bring back, probably dating from around 1970.

(Personal collection)

Example 3. Thai short sword or knife
Here is an example of a very recently manufactured short sword or large knife. The Thai company (Aranyak) is still making these and larger swords, and they are the high end of the current, readily available tourist/replica Thai swords.
The blades on this manufacturer's swords are said to be made by the "three man hammer" method, but I am unsure what that means. A description of how traditional Thai blades are forged can be found here. Mention is made of three apprentices who help in the initial stages.
http://aranyik.hypermart.net/html/making_methods.html
The handles have been turned on a lathe, and the ferrules are well fitted. The blade shows incised Thai designs that I have not seen on older swords.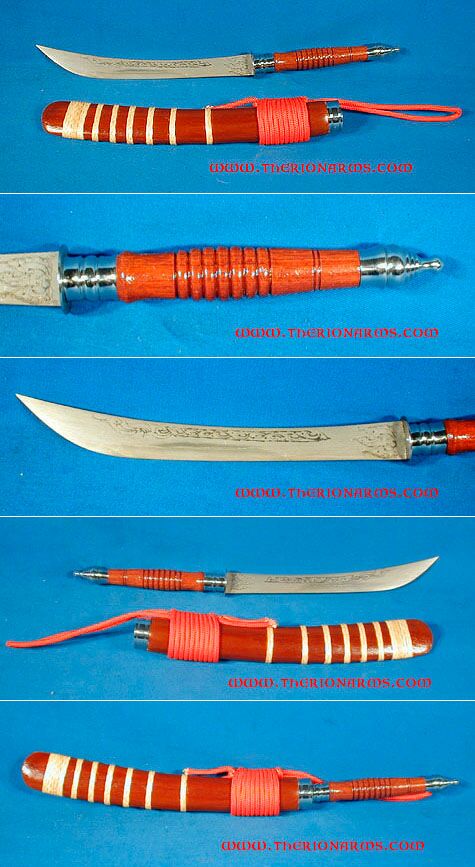 (Courtesy of Therion Arms)

Example 4. Thai knife
This one is a common tourist variant and comes in varying lengths. The main features are a heavily carved wooden hilt and scabbard, and a terminal "point" to the sheath. This terminal point is a typical Thai feature, largely seen with contemporary swords made since WWII. I have seen very few similar scabbards made earlier in the 20th C. and none before about 1930.
The blade on these knives/swords is typically thin and of poor quality. This style of knife/sword seldom has any blade marks, and that appears to be the case in this example.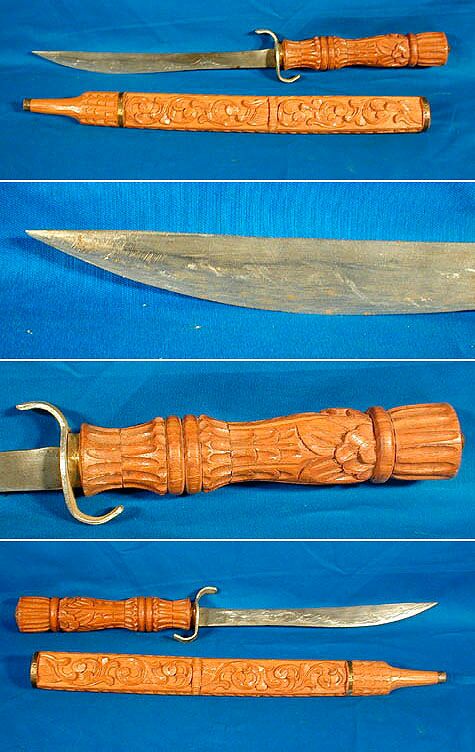 (Courtesy of Therion Arms)

Example 5. Thai short sword or knife
This is another variation of recently made Thai weapons. The blade is of typical shape and appears to lack any markings. The hilt is of the "plain" form, wrapped with thin rattan strips in the traditional manner. It appears to be missing a terminal brass ferrule.
The unusual feature of this knife is its S-shaped alloy guard. This shape is a recent feature on Thai swords, and seems to have appeared only in the last 20 years. The guard seems to be pierced in part; again an atypical feature for Thai weapons. This guard may be mounted upside down because the decorative work usually faces up, towards the hilt, and on this one it faces down towards the blade.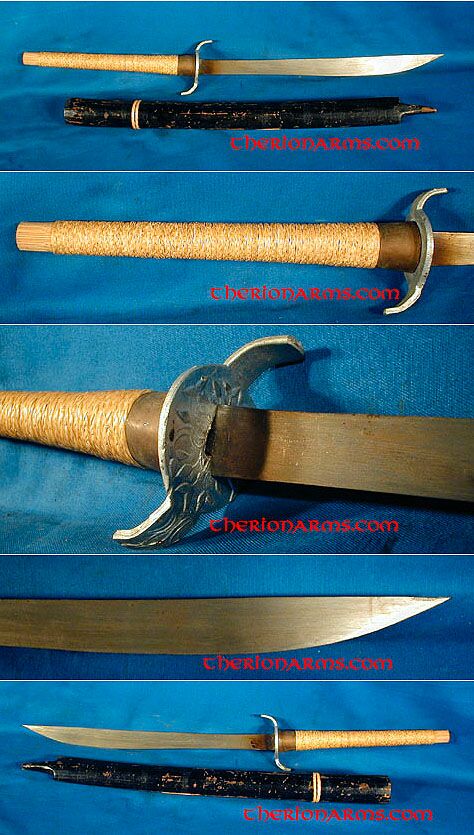 (Courtesy of Therion Arms)


-------------------------------------------------------------------
To accommodate limitations on the number of graphics per posting, the rest of this material is included below (See 3. Marks on recent Thai swords).
[This message has been edited by Ian (edited 03-25-2003).]
IP: Logged