posted 05-28-2002 06:59
---
Received from DAHenkel:
Split off from this thread... sorry.


Justin, the terms mendak, selut and pendokok (pendongkok, pedoko, pedokok) all refer to a hilt cup or base that goes between the hilt and the blade. I guess the best English translation would be ferrule or hilt cup. As one could imagine there is a tremendous variety in types and styles with all matter of influences in their development and construction. Mendak and selut are Javanese terms although theyíre generally understood among most collectors. Mendak are a simple ring-shaped base for the hilt while selut are cup-shaped and wrap around the base of the hilt. Generally in Javanese keris the mendak is used alone or in a two piece mendak-selut construction. Selut only construction is rare on Java.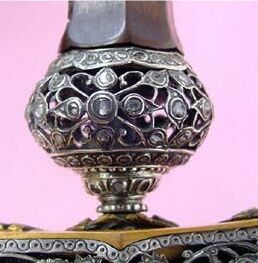 Typical Javanese mendak-selut construction.

Pendokok on the other hand is a Malay term used on the Peninsula and I prefer to use this term particularly in the context of Malay keris. Primarily the pendokok is either cast metal or tooled sheet or a combination of the two though non-metallic materials, i.e. bone, ivory or wood do pop up on occasion. Decorations include tooled or incised designs, wire, fish egg or metallic discs or other shape filigree, or precious or semi-precious stones etc.
Now that I know how yours is constructed I can tell you that what you have is referred to by Frey as a Malacca cup. Generally this is tooled sheet metal (copper, brass, silver etc.) and can be of either one piece or multiple piece construction. In the case of the latter there is generally a small ring-shaped base with a cup. These are common all over but particularly in the Peninsula and Sumatra. Some like yours have upward curving leaves or petals while others are a pierced cup as in the malela piece I recently posted in Topic: Keris Terengganu. See also fig. 10 in Topic: Malela blades from DAHenkel.
More common still is the cast "Bugis cup" most commonly associated with the Bugis and Bugis derivative keris. These are one piece and decorated with either tooling or filigree. A fine example is Johnís keris in Topic: Peninsular Malaysian Keris Malela. Other pendokok incorporate multiple cast pieces that are then welded or rolled together as in the piece in Topic: New panjang scabbard. Other forms incorporate both cast and tooled parts together. The Pattani pendokok glugor is one example of this that incorporates multiple parts of both sheet and cast construction. Topic: Keris Saribulan has a good example of this as is fig. 4 in Topic: Malela blades from DAHenkel. Other examples have a stacked washer construction where a variety of gear-shaped washers are stacked one on the other to form the base of the cup.
Your comment that your pendokok looks like a lotus is an astute observation. The lotus flower or bunga teratai is a very common theme in pendokok construction. As many of you will already know the lotus flower is often portrayed as the seat of gods or deities in Hindu-Buddhist art and this is something that has carried over into Malay art despite Islamic influence.
The following are a few examples of Peninsular forms.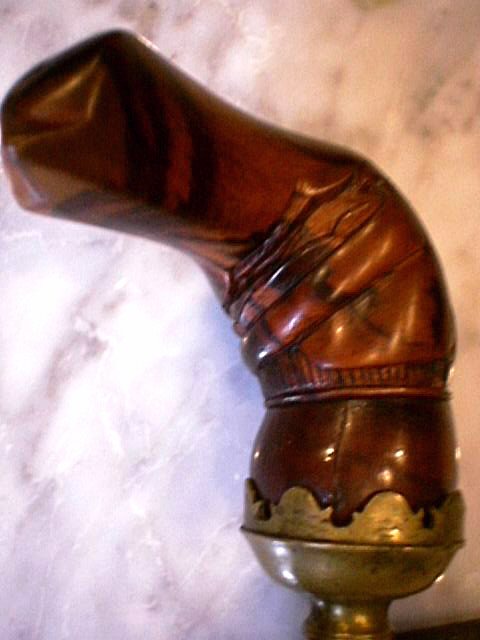 An example of a typical Terengganu form of one piece cast construction.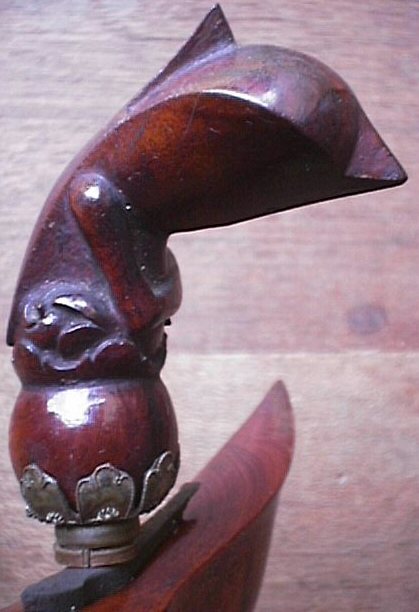 A simple Peninsular variant common to Johor-Riau although this example is on a Pattani keris. Its a teratai form with wire filigree. Super nice hilt by the way.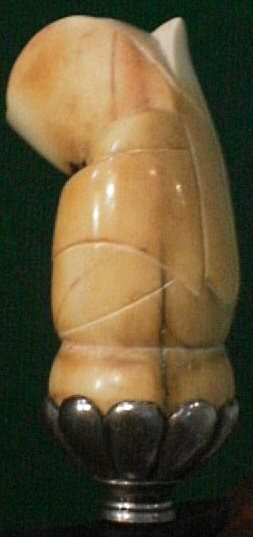 Another variant common to Terengganu. Lovely floral petal design that looks almost European.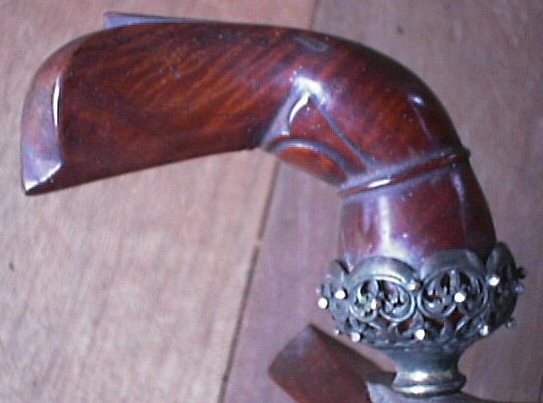 Pattani style pierced Malacca cup in silver. This is a high status piece that is the property of a descendant of the Pattani royal line.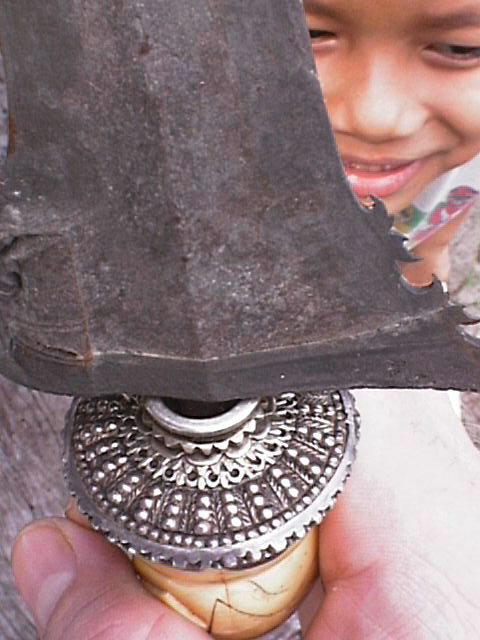 This example is in the glugor form but with stacked washers between the mendak and the selut. One of my all time favorites. BTW the face in the background is Nik Rashidin's son Ismail. He's quite the cut-up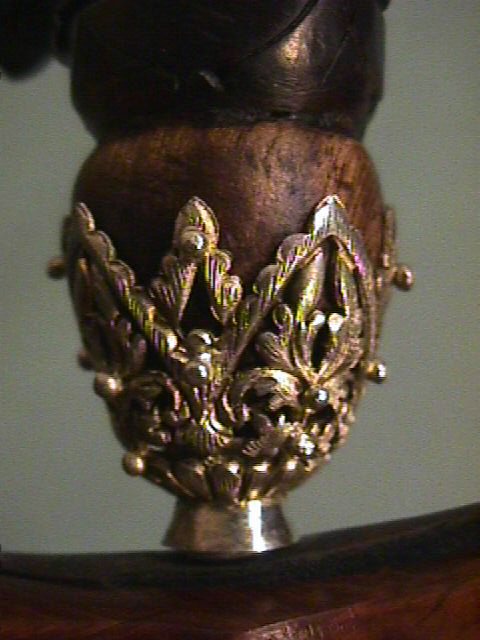 A Pattani form most commonly associated with the Tajong hilt.

...more to come
[This message has been edited by Lee Jones (edited 05-29-2002).]
IP: Logged