Lee Jones
EEWRS Staff
posted 12-12-1999 12:33
---
Timbuktu, in the southern edge of the Sahara, in present day Mali, was once an important caravan stop and Islamic educational center, and is today home to many ethnic groups, including Tuareg, many of whom settled here following severe droughts in the past few decades.

If my own experience is representative, group tourists are unlikely to have any real exposure to Tuareg culture beyond an interface layer of hard-sell souvenir vendors. Toxic effects of tourism otherwise aside, many of these traders continue to wear the splendid colorful traditional robes and veil, a welcome contrast to the dominant form of African dress today, which is variably soiled and worn western sportswear in styles which failed or have become outdated in the West.

Occasionally you may expect to see a Tuareg in Timbuktu wearing a takouba, the traditional form of Tuareg sword. The takouba as seen in this context will almost certainly be merchandise in fact and a family heirloom in legend. This being said, I did not pass up the opportunity to examine any of these placed on offer on the blanket. A few of these takouba were clearly the genuine article, not ancient, but ordinary typical examples which were made as weapons and which showed signs of prolonged wear. Such an example would, after negotiation, cost about 50,000 CFA (or about $90). For a fifth of that you could buy a takouba with a well worn hilt and scabbard, same as above, but with a crudely made blade lacking any convincing patina. (So, when you occasionally see a fine old blade in clearly new mounts - as with a couple of the examples at the link above - you need not fret that the old mounts were casually discarded.) I also vaguely recall a few takouba-like objects with crude new mounts and blades, but I did not give them attention.

Also in evidence were huge swords with lathe turned wooden handles and scabbards and often with additional by-knives. I particularly liked one with a translucent maroon finish (I actually saw this in Mopti, not Timbuktu, but its vendor was dressed in Tuareg fashion) for sheer vulgarity, but I saw well made examples of the form as well and have no idea as to whether these are varingly degenerate examples of a true ethnographic form (Mandigo?) or pure fantasy.

The traditional Tuareg spear, called an allarh is a long iron shaft about 5 to 6 feet in length with a barbed tip and flared, flattened butt. I saw none of truly classic form, however a somewhat lighter, shorter and fancier (perforated flared butt, dangles by the handle) version, about 4 and a half feet long, and coming in two pieces connecting at the central grip for easy duffel bag or suitcase packing was for sale everywhere. I resisted the temptation to buy one, unfortunately, so I cannot present a photograph now.

I do not recall having seen a traditional Tuareg arm dagger, or telek, however daggers of similar form without an arm ring on the sheath were in evidence. The only daggers on offer which had any signs of use were of what I personally call the "Tuareg heavy brass" style, for lack of any guidance from the ethnographic literature. Here is an example: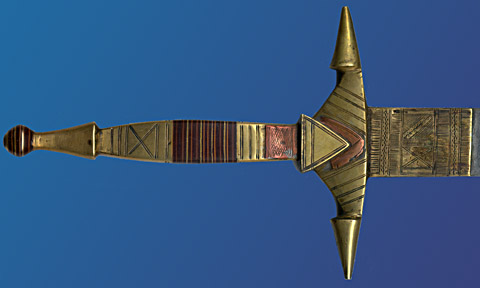 The double-edged blade was represented as being of "Toledo" steel and is well formed; it is presently not as sharp as a kitchen knife. Engraved brass plates soldered to the base of the blade are a typical feature. The hilt is largely of brass with applied copper trim, the dark brown bands are layers of linoleum, much as leather washers laminated together sometimes form the grips of American hunting knives. The sheath is essentially in the form of a scaled down takouba scabbard. This dagger shows wear and patina and I am reasonably satisfied it was not made "yesterday" for the tourist trade, though I do not believe it could be more than a few decades old.
I suspect the "heavy brass" style is fairly recent, perhaps within the last few decades. I have seen very large knives, even fantastic, futuristic sword-like objects made in this style, on the fringe of the Sahara in both in Morocco and Mali, but never in the arms and armour literature. I would welcome any information anyone could provide on where this style is from and how old it is.
Perhaps the most commonly seen knife for sale was not of traditional Saharan form but instead essentially a modern American style drop point hunter. Very proficiently ground with three blade face facets, one for the edge, the other along the base of the back and the last highlighting the drop point. A single stamped or engraved stylized half moon figure adorned the back facet on each side about halfway along the blades length and was of the form which may be seen in pairs on many old takouba blades. The hilt had a small (typical for an American hunting knife) brass guard extending from the edge side only and a wooden handle of dark ebony-like wood with inset brass, copper and white metal rods and pipes making geometric designs. The scabbards of leather retained the characteristic local recessed channel along each face. So, essentially an entirely modern hunting knife with a bit of Tuareg trim. Maybe they were just for the tourists, but I have my fears...
[This message has been edited by Lee Jones (edited 12-12-1999).]
IP: Logged
Jim McDougall
EEWRS Staff
posted 12-13-1999 23:53
---
Hello D-2,
I think that the best source I have seen for discussions on medieval Islamic swords are in Islamic Arms & Armour, edited by Robert Elgood, 1979. One article by Abdel Rahman Zaky ,titled "Medieval Arab Arms" has some illustrations of broadswords c.1258 that do have structural similarities to the simple takouba and kaskara. These have the straight grip, while later the Iranian hilts with sloping, curved grip/pommel were adopted.
Arab/Turkish swords were virtually the same simple straight broadswords during these early times, with sabres coming in later.
In the same book, there are outstanding articles by Michael Gorelik and David Nicolle, both of whom are important authorities on Islamic warfare and weapons of the medieval period.
While on the subject of takoubas and kaskaras, there are two articles which are a must, buth from the Journal of the Arms & Armour Society in London:
"European Blades in Taureg Swords & Daggers"
by Dr. Lloyd Cabot Briggs.
Journal, Vol.5, #2, June 1965
___________________________________________
"Kaskara from Northern Darfur, Sudan"
by Graham Reed,
Journal, Vol.XII #3, March,1987.

Besides, Chris Spring's African Arms & Armour
these are great in depth treatments on these swords.

I mentioned Lee's trip to my wife, noting he had gone to Timbuktu...and she said, "you mean there really is such a place!!!??"
Thinking of the old cliche' !! Sounds like a fascinating trip!!!
Jim

IP: Logged
Lee Jones
EEWRS Staff
posted 12-16-1999 06:17
---
For D2:
Amazingly, North's "Islamic Arms" and Elgood's "Islamic Arms & Armour" have both escaped my library, so this is the first I heard of such a similarity. While I was in Turkey earlier this year, I visited the Askeri (military) museum and Topkapi Museum in Istanbul and several archaeological museums and saw nothing that personally reminded me of the takouba hilt form.

For Ruel:
Every takouba I have ever seen, here or there, has had a rounded point. In so many regards, takoubas remind me of Viking swords, which will characteristically have a rounded, though broader, spatulate point. As both of these cultures are reputed to have had plenty of collective experience using these relatively blunt ended swords as weapons, such blunted tips must not have been so much of a disadvantage as it would seem. It is also probably not coincidental that both the Vikings and the Tuareg used their swords in conjunction with a large shield.

[This message has been edited by Lee Jones (edited 12-16-1999).]

IP: Logged